Now With: Ultra Non-Stick Titanium Ceramic Copper Coating
Combination
Pan Duo® is a unique patented pan that combines the characteristics of a round and square pizza all in one pan. It is the first ever half round and half square pizza pan out in the market.
Quality
Pan Duo® Pans are made from a professional heavy gauge hard-anodized aluminum and are coated with an Ultra Non-Stick Titanium Ceramic Copper Coating. Making them lightweight & extremely durable, about 30% stronger than stainless steel pans.
Perfect Slices
Easy-Cut™ cutting guides allows you to cut your pizza slices perfectly directly on the pan without the need of a cutting board. Letting you serve perfect slices and portions every time.
Stackable
All Pan Duo® Pans are stackable, which gives you the benefit of safely storing your pans and taking minimum storage space.
Enjoyable
A large Pan Duo® pan equivalent to about 14 inch diameter standard round pan creates 5 slices of a round type pizza and 6 slices of a square type pizza. Plenty of round and square pizza slices for everyone to enjoy.
Equivalent to a 14 inch diameter standard round pan
Multiple Uses
Pan Duo is versatile and can be used for your main course & dessert. Also, perfect for hors d'oeuvre, finger food, after-school snacks & heating leftovers. Use Pan Duo to cook the following Pizza, Cheese Sticks, Wings, Cookies, Brownies, Cakes Calzones, Frozen Pizza, Thin Crust or Deep-Dish Pizza, Bread Sticks, & Etc.
Bigger & Better
Pan Duo® pans are equivalent to a 14 inch diameter x 1.5 inch depth prefect for deep dish, standard, & thin crust pizza. That is 20% bigger than the original Pan Duo® pan and 40% bigger over competitor pans. Giving the new Pan Duo® pan plenty of cooking surface.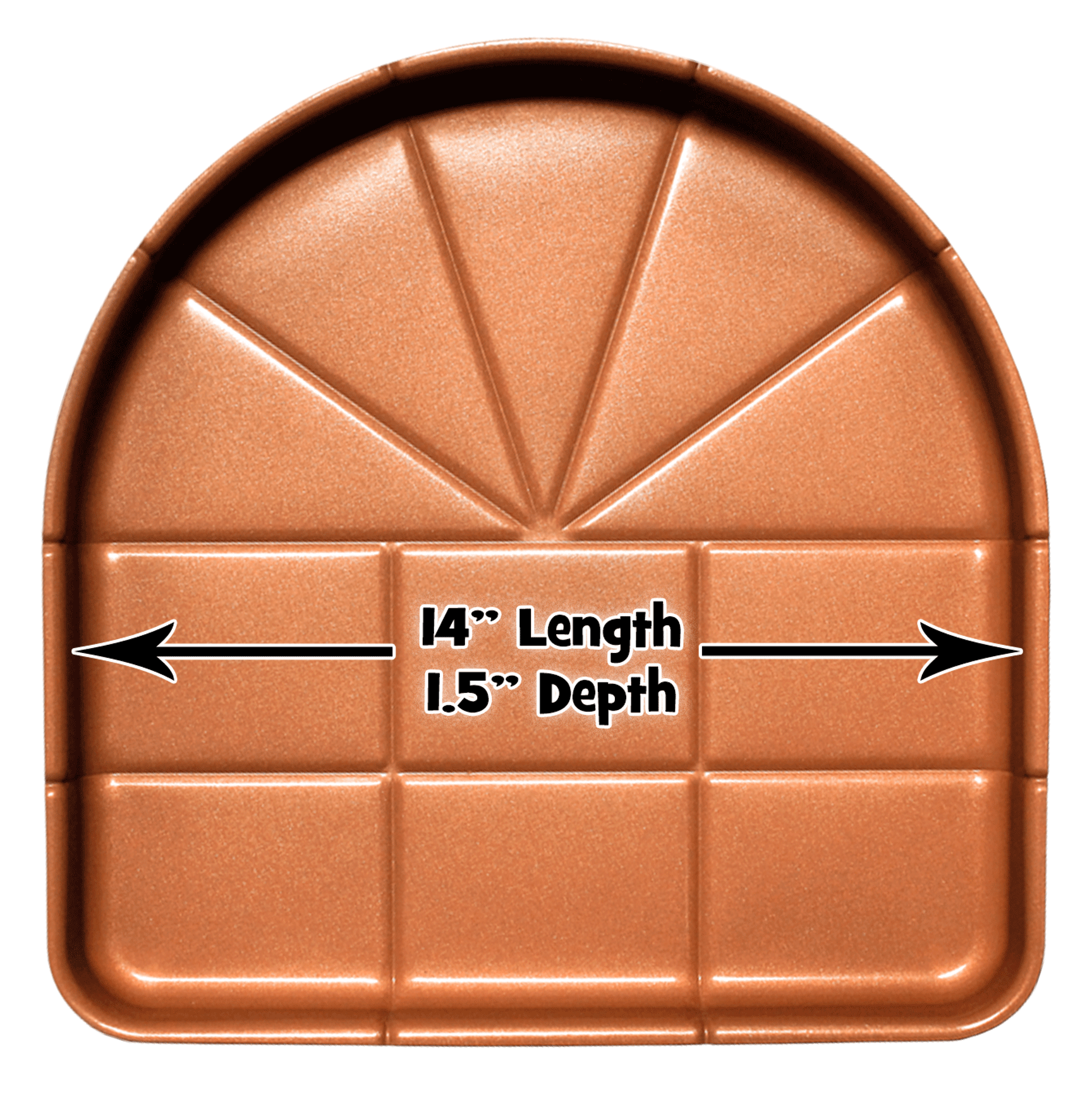 Specifications
• Ultra Non-Stick Titanium Ceramic Copper Coating
• No Oil Or Butter Needed Everything Slides Right Off
• Safe & Eco-Friendly Coating
• 100% Safe: BPA, PFOS, PFOA-Free & PTFE-Free
• Professional-Gauge Hard-Anodized Aluminum
• Cooks Perfect Crusts For Ultimate Crispiness
• Even Baking Temperatures For Uniform Results
• Cleans Up Easily With Warm Water & Soap
• Scratch & Corrosion Resistant
• 7H-8H Mohs Scale Hardness
• Freezer & Dishwasher Safe
• Oven-Safe To 750 F